Your guide to relief from PMS mood swings and irritability with Serenol*
How to get results within two months, and a lifetime of better moods.
"Mood swings and irritability are common symptoms of PMS and perimenopause, and, along with lifestyle modifications, Serenol can help to manage these distressing symptoms and help women feel more like themselves."
Dr. Alyssa Dweck
MS, MD, FACOG

Gynecologist,
Bonafide Chief Medical Advisor
How to use Serenol™
Give Serenol at least two months to work.

Serenol works safely and effectively, but, like all good things, it takes time. You need to take Serenol for at least two months for best results.

Take Ristela daily and consistently for at least two months.

Ristela works safely and effectively, but like all good things it takes time and commitment. In addition to engaging in sexual activity, you need to take Ristela consistently every day for at least two months.

Serenol gets better over time.

With Serenol your relief improves over time, so stick with it!
What to expect
2

Month 2

It keeps getting better! In clinical trials, the ingredients in Serenol were shown to continue reducing mood swings and irritability at month two. 1

3

Month 3

It keeps getting better! Data shows that results continue to improve with consistent, daily use. 2
Frequently Asked Questions
Who can or should use Serenol?

Serenol is intended for women who are experiencing emotional PMS symptoms, including irritability, mood swings and uneasiness. Its key ingredients have been shown to be safe in women in multiple clinical studies.
What are the ingredients in Serenol?

Primary Ingredients: Chromium (as Chromium Picolinate), Purified Cytoplasmic Blend (proprietary Swedish Flower pollen extract in the form of Pollen + Pistil Extract PI-82, and Pollen Extract GC-FEM), and Royal Jelly.

Other ingredients include: Maltodextrin, Calcium Carbonate, Acacia, Isomalt, d-αtocopheryl succinate (antioxidant), Stearic Acid, Croscarmellose Sodium, Magnesium Stearate, Hydroxypropyl Methylcellulose (alternatively HPMC), Silica, and Polysorbate.
How long does Serenol take to work?

Serenol takes time to work. In clinical studies, the majority of women experienced reduced irritability and mood swings results by month two, with improved results by month 3. While some women report feeling the benefits of Serenol earlier, we recommend you take Serenol every day for at least two months for best results.
Does Serenol have any side effects?

In clinical studies, any side effects reported were no different than those reported by people taking placebo tablets (sugar pills). If you have specific concerns, we recommend that you speak with your doctor.
How does Serenol work?

The plant-based extract in Serenol is believed to work centrally in the body to reduce emotional PMS symptoms. Additionally, Serenol contains chromium picolinate, an essential mineral and insulin cofactor which improves glucose metabolism and appetite control.
How do I take Serenol?

Take two pills once daily, with a glass of water. Use consistently for at least two months for best results.
Can I take this with other supplements?

While we don't expect there to be any negative interactions with other supplements, there have been no clinical studies done on taking our products with other supplements. We recommend you reach out to your healthcare provider if you have specific questions.
Is Serenol approved by the FDA (Food and Drug Administration)?

Serenol is a dietary supplement, and the FDA does not approve dietary supplements. However, under the Dietary Supplement Health and Education Act of 1994 (DHSEA), the FDA regulates dietary supplements under a different set of regulations than those covering "conventional" foods and drug products.

At Bonafide, we are committed to ensuring our products are both safe and effective. All Bonafide products are scientifically validated and have been thoroughly tested for safety, efficacy, and potency. Together with our FDA-registered, NSF certified Good Manufacturing Practice manufacturing facility, we rigorously test our products for contaminants such as microorganisms and heavy metals, like lead, to ensure that our products are safe and of the highest quality, because you deserve relief without compromise.
Can I take Serenol if I am allergic to bees?

As Serenol contains royal jelly as an ingredient, we recommend that you avoid Serenol if you are allergic to bees or bee products.
What does my subscription to Serenol include?

Your monthly subscription includes a 30-day supply of Serenol. You receive free shipping on every order. Your first month's shipment is your Welcome Kit with helpful information about how to get the best results with Serenol. You are also eligible for our Bonafide Rewards, where you get exclusive access to valuable points every time you shop.
How do I cancel my subscription?

Before you cancel, did you know you have the option to skip orders in advance? Read our FAQ, "How do I skip or edit an upcoming subscription order?"

To cancel any of your Bonafide subscriptions, ensure you do so at least 5 days before your next processing date:

Log in to your Bonafide account with your username and password. If you can't log in, please see our FAQ "How do I set up a Bonafide account?"

Under Active Subscriptions, find the subscription you would like to cancel

Within this subscription panel, click Edit on the right-hand side

On your Subscription Details page, click Deactivate Subscription in the lower right-hand corner

Confirm the reason you would like to cancel your subscription, and click Continue

Click through the final step on screen, and wait until you see a green confirmation notice, "Success! Updates Saved Successfully!" to save your changes

Please note, you may cancel your bundle subscription, but doing so will cancel both/all of the 2+ products in your subscription. If you would like to cancel 1 product in your subscription, but not the other, please see "I have a bundle subscription. How can I cancel one product, but not both?"

To re-activate a subscription you've previously canceled, log in to your Bonafide account. Under Your Subscriptions, scroll down to Inactive Subscriptions. Select the subscription you would like to re-activate and select re-activate on the right-hand side.
How do I skip or edit an upcoming subscription order?

To skip or edit an upcoming order, log in to your Bonafide account at hellobonafide.com. If you can't log in, please see our FAQ "How do I set up a Bonafide account?"

Once you're logged in:

Look for the subscription whose next order you are looking for under your list of Active Subscriptions

To Skip your next order:

In this subscription panel, click Skip

Wait for the green "Updated successfully" pop-up confirmation

To Edit your next order:

In this subscription panel, click Edit

In the Next Charge Date panel, click Edit

Select your preferred charge date and click Save

Your new charge date will now be reflected under your active subscriptions.
I have a Bonafide subscription. How can I add an additional Bonafide product to my existing subscription?

Log in to your Bonafide account. If you can't log in, please see our FAQ "How do I set up a Bonafide account?"

Under Your Subscriptions, by Active Subscriptions, click Add New Subscription

Click the product you would like to add to your subscription

Review the first drop-down menu item, "Ships with Active Subscription" to select the existing subscription you would like your new subscription to ship with (note, if you select "Custom Date" when setting your order date, the new subscription will NOT ship in the same box as your existing subscription unless you also change the ship date for your existing subscription. A shipping fee may apply to each shipment for products valued at $20 or less which ship by themselves).

Click Add New Subscription

Wait until you see the green pop-up "Success-New Subscription Added"

Once your subscription addition is confirmed, you will see your new subscription under Active Subscriptions. The "Next Charge Date" and "Ships To" addresses should be the same as your existing subscription in order for the products to ship in the same box. You'll also have the option to edit the added subscription separately.
How do I set up a Bonafide account?

If you don't have a Bonafide account, simply register for one using the same email address you used to place your Bonafide purchases. Once you set up your account, you can begin to earn points toward rewards. For more information on setting up your Bonafide account, please see our FAQ "How do I set up a Bonafide account?" or watch below video.
You're not alone.
We've been there—really! Many of our support team members take our products, and all of us want to help you succeed. How can we help?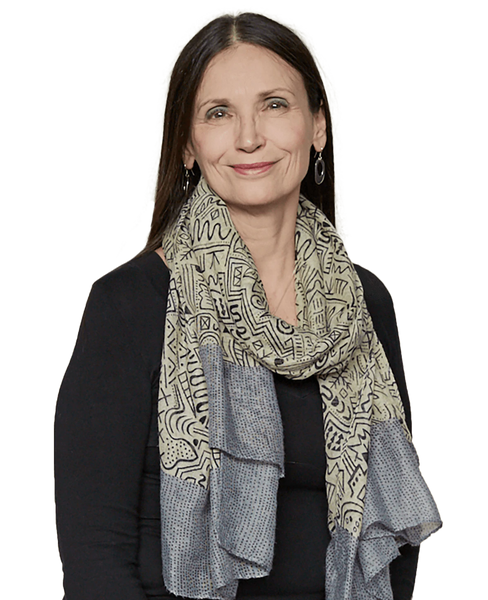 Real Talk
How our customers feel about Serenol
"I wanted to hate this product right out of the gate when my Doctor recommended it. I thought it was an herbal gimmick. But, my mood swings and irritability became so out of control that I was desperate to feel normal again. Serenol has been a literal life changer. I feel like myself again without the need for an antidepressant or hormone replacement therapy. This product is absolutely amazing."

"I'm 47 years old and have been taking Serenol for 2 months now (after talking with my doctor, who suggested this product) and have noticed a huge difference. I feel like my "normal" self again. My general moods are more even keeled and I'm not weepy for no reason anymore.. Honestly this is the best I've felt in 2 years.. I totally recommend this product and have told many friends about this supplement. I wish this product was around when my mother was going through perimenopause, I know it would have helped her too "

"I've started peri-menopause, and my PMS symptoms were horrible. I had crazy mood swings: crying, angry, sad, and just horrible to be around. I would lay in my bed at night and would feel like my body was zinging with nervous electricity. My relationship was being affected. I was very worried. Worried enough I went to see my doctor. She recommended Bonafide and Serenol. Her mother was taking one of the other Bonafide supplements and was experiencing very good results. She suggested I give Serenol a try and it has been life-changing. Not only have my PMS symptoms become manageable, but I also have to say I feel calmer and more like my old self even when not PMS-ing. It did take about a month and half before I really felt results, so definitely stick with it. I feel like this product has given me back my life."
Dealing with low arousal too?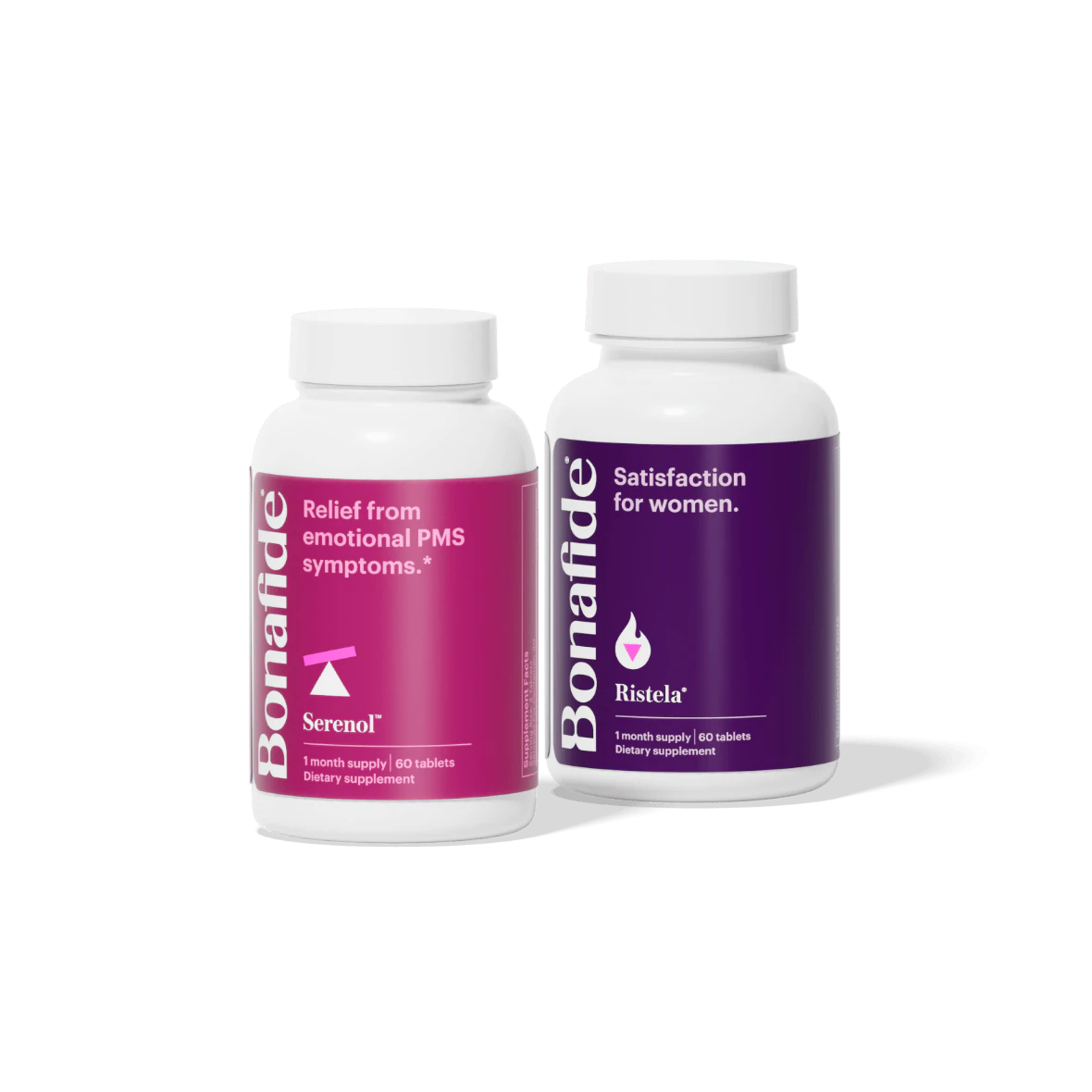 Add Ristela
Serenol + Ristela®
Along with mood swings, many women also experience low arousal and weak orgasm.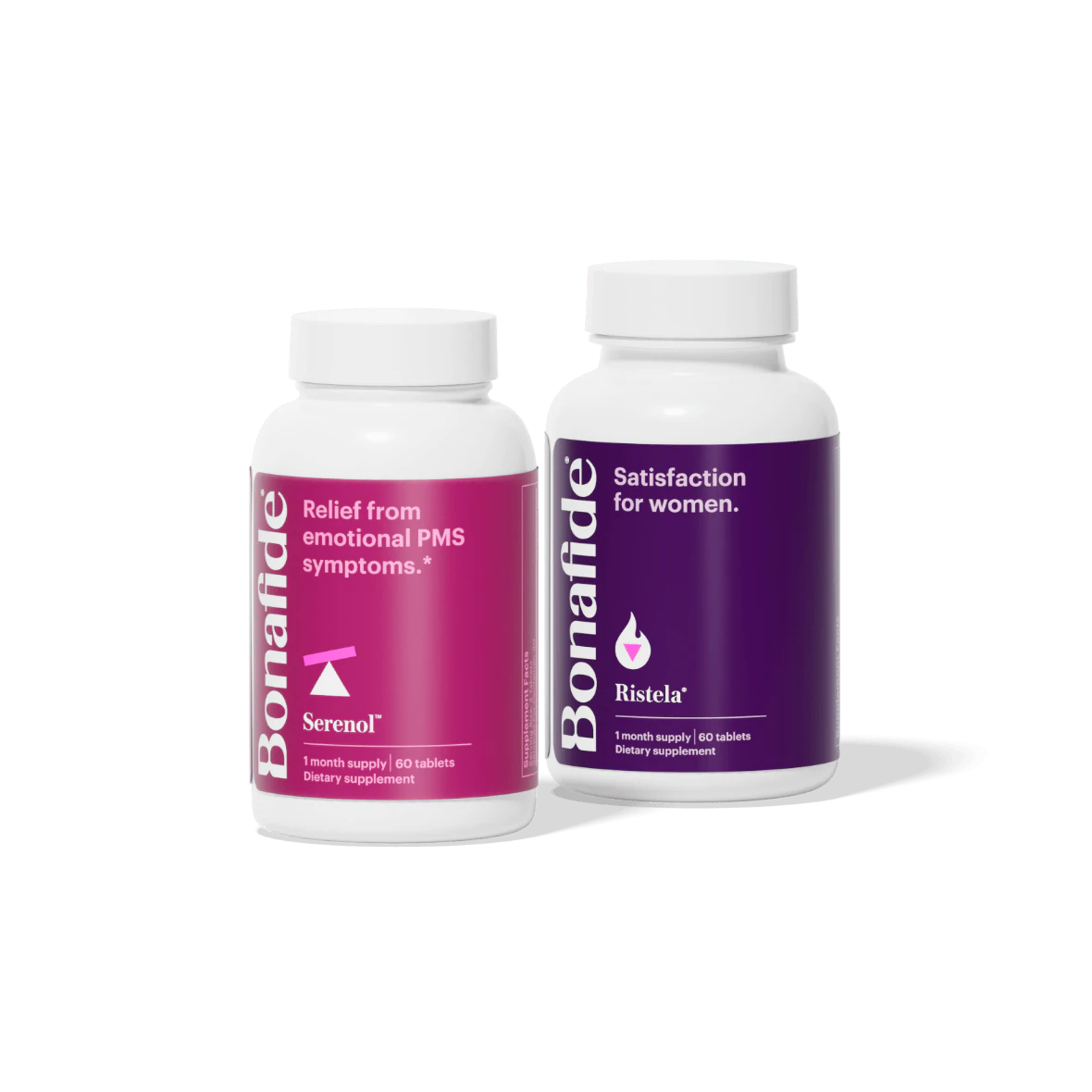 Add Ristela
That's why Bonafide women love power couple Serenol and Ristela. Ristela combines four key ingredients that work together to increase blood flow to the vaginal area, making it easier for sexually active women to become physically aroused and experience orgasm.*
Ask Our Expert
Dealing with mood fluctuations & irritability