Your guide to relief from menopausal hot flashes and night sweats with Relizen*
How to get results within two months, and a lifetime of cooler days and nights.
"As a non-hormonal treatment to manage hot flashes and night sweats, Relizen is a welcome solution for the many women who experience significant disruption to their sleep and daily quality of life."
Dr. Alyssa Dweck
MS, MD, FACOG

Gynecologist,
Bonafide Chief Medical Advisor
How to use Relizen®
Give Relizen at least two months to work.

Relizen works safely and effectively, but, like all good things, it takes time. You need to take Relizen for at least two months for best results.

Take Relizen daily and consistently.

Relizen needs to be taken consistently, so commit to a routine of taking two tablets of Relizen every day.

Relizen gets better over time.

With Relizen your relief improves over time, so be patient, be persistent, and stick with it!
What to expect
1

Month 1

You may not notice a significant difference yet, but trust that Relizen is hard at work and keep taking daily.

2

Month 2

In clinical trials, Relizen was shown to significantly reduce hot flash frequency by month two. 1 *

3

Month 3

Staying cool and sleeping better. In clinical trials, Relizen was shown to reduce the frequency and intensity of hot flashes even more at month three, plus help you sleep better and stay asleep for longer. 1

6

Month 6

It keeps getting better! Data shows that Relizen's hot flash, night sweat, and sleep benefits continue to improve over time with consistent, daily use. So stick with it! 2
Frequently Asked Questions
Who can or should use Relizen?

Relizen is intended for the woman who is experiencing hot flashes associated with menopause. It has been shown to be safe in women in multiple clinical studies.
What are the ingredients in Relizen?

Primary Ingredients: Purified Cytoplasmic Blend (proprietary Swedish Flower pollen extract in the form of Pollen + Pistil Extract PI-82, and Pollen Extract GC-FEM).

Other Ingredients include: Isomalt, Maltodextrin, Microcrystalline cellulose, Acacia, Magnesium Stearate, Vitamin E (as d-α-tocopheryl succinate), Hydroxypropyl methylcellulose (alternatively HPMC), Silica, Polysorbate.
How long does Relizen take to work?

We recommend that you take Relizen every day for at least two months for the best results.

In a clinical study, there were improvements in symptoms by month 2 and significant reductions by month 3 among those women taking the recommended dose of Relizen consistently, versus those taking a sugar pill. An open-label extension on this study followed the women taking Relizen for an extra 3 months, and saw even further reductions by month 6, suggesting that Relizen builds up in the body over time, becoming more and more effective.

In a survey of over 3,500 women, after three months, 71% of patients noted hot flash relief, 73% experienced reduced hot flash frequency, and 71% experienced reduced intensity.
Does Relizen have any side effects?

Relizen is plant-based and does not have any hormonal side-effects. Relizen has been used safely in Europe by over 1 million women, where it has been available for over 15 years. In clinical studies, any side effects reported were no different than those reported by people taking placebo tablets (sugar pills). If you have specific concerns, we recommend that you speak with your doctor.
How does Relizen work?

Relizen is hypothesized to work through a serotonergic mechanism of action. Rather than going through the hormonal pathways in your body like other menopausal supplements do, Relizen works with your body's internal thermostat to give your body back its natural ability to regulate its temperature, without hormonal side effects.
How do I take Relizen?

Take two pills once daily, with a glass of water. Use consistently for at least two months for best results.
Can I take this with other supplements?

While we don't expect there to be any negative interactions with other supplements, there have been no clinical studies done on taking our products with other supplements. We recommend you reach out to your healthcare provider if you have specific questions.
Can I take Relizen at a higher dose?

The main ingredient in Relizen (Swedish Flower pollen extract) has been safely evaluated at twice the dose and no safety risks or adverse events were seen at that dose. We recommend that you discuss your symptoms with your doctor before making changes to your treatment plans.
Is Relizen approved by the FDA (Food and Drug Administration)?

Relizen is a dietary supplement, and the FDA does not approve dietary supplements. However, under the Dietary Supplement Health and Education Act of 1994 (DHSEA), the FDA regulates dietary supplements under a different set of regulations than those covering "conventional" foods and drug products.

At Bonafide, we are committed to ensuring our products are both safe and effective. All Bonafide products are scientifically validated and have been thoroughly tested for safety, efficacy, and potency. Together with our FDA-registered, NSF certified Good Manufacturing Practice manufacturing facility, we rigorously test our products for contaminants such as microorganisms and heavy metals, like lead, to ensure that our products are safe and of the highest quality, because you deserve relief without compromise.
What does my subscription to Relizen include?

Your monthly subscription includes a 30-day supply of Relizen. You receive free shipping on every order. Your first month's shipment is your Welcome Kit with helpful information about how to get the best results with Relizen. You are also eligible for our Bonafide Rewards, where you get exclusive access to valuable points every time you shop.
How do I cancel my subscription?

Before you cancel, did you know you have the option to skip orders in advance? Read our FAQ, "How do I skip or edit an upcoming subscription order?"

To cancel any of your Bonafide subscriptions, ensure you do so at least 5 days before your next processing date:

Log in to your Bonafide account with your username and password. If you can't log in, please see our FAQ "How do I set up a Bonafide account?"

Under Active Subscriptions, find the subscription you would like to cancel

Within this subscription panel, click Edit on the right-hand side

On your Subscription Details page, click Deactivate Subscription in the lower right-hand corner

Confirm the reason you would like to cancel your subscription, and click Continue

Click through the final step on screen, and wait until you see a green confirmation notice, "Success! Updates Saved Successfully!" to save your changes

Please note, you may cancel your bundle subscription, but doing so will cancel both/all of the 2+ products in your subscription. If you would like to cancel 1 product in your subscription, but not the other, please see "I have a bundle subscription. How can I cancel one product, but not both?"

To re-activate a subscription you've previously canceled, log in to your Bonafide account. Under Your Subscriptions, scroll down to Inactive Subscriptions. Select the subscription you would like to re-activate and select re-activate on the right-hand side.
How do I skip or edit an upcoming subscription order?

To skip or edit an upcoming order, log in to your Bonafide account at hellobonafide.com. If you can't log in, please see our FAQ "How do I set up a Bonafide account?"

Once you're logged in:

Look for the subscription whose next order you are looking for under your list of Active Subscriptions

To Skip your next order:

In this subscription panel, click Skip

Wait for the green "Updated successfully" pop-up confirmation

To Edit your next order:

In this subscription panel, click Edit

In the Next Charge Date panel, click Edit

Select your preferred charge date and click Save

Your new charge date will now be reflected under your active subscriptions.
I have a Bonafide subscription. How can I add an additional Bonafide product to my existing subscription?

log in to your Bonafide account. If you can't log in, please see our FAQ "How do I set up a Bonafide account?"

Under Your Subscriptions, by Active Subscriptions, click Add New Subscription

Click the product you would like to add to your subscription

Review the first drop-down menu item, "Ships with Active Subscription" to select the existing subscription you would like your new subscription to ship with (note, if you select "Custom Date" when setting your order date, the new subscription will NOT ship in the same box as your existing subscription unless you also change the ship date for your existing subscription. A shipping fee may apply to each shipment for products valued at $20 or less which ship by themselves).

Click Add New Subscription

Wait until you see the green pop-up "Success-New Subscription Added"

Once your subscription addition is confirmed, you will see your new subscription under Active Subscriptions. The "Next Charge Date" and "Ships To" addresses should be the same as your existing subscription in order for the products to ship in the same box. You'll also have the option to edit the added subscription separately.
How do I set up a Bonafide account?

If you don't have a Bonafide account, simply register for one using the same email address you used to place your Bonafide purchases. Once you set up your account, you can begin to earn points toward rewards. For more information on setting up your Bonafide account, please see our FAQ "How do I set up a Bonafide account?" or watch below video.
You're not alone.
We've been there—really! Many of our support team members take our products, and all of us want to help you succeed. How can we help?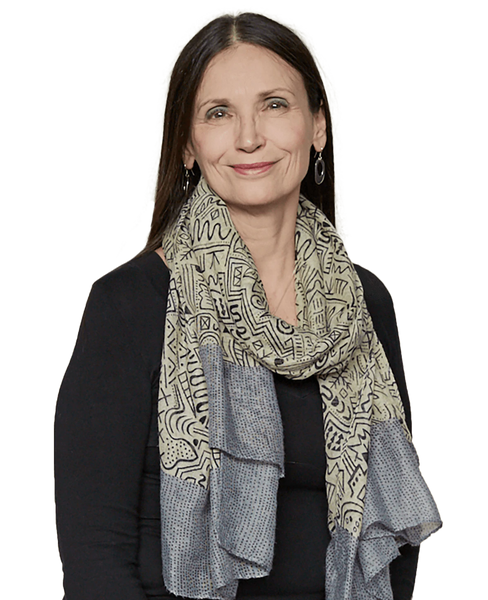 Real Talk
How our customers feel about Relizen
"I admit that I was skeptical about this product working for me but decided to give it a try anyway. After about 6 weeks, I noticed that I was sleeping better. I have now cooled off enough that I actually sleep with covers on. And best of all, I can finally snuggle with my husband again without feeling like I'm on fire! Thank you for giving me back a treasured part of my intimacy with my husband!"

"About two years ago, I began full menopause mode. Night sweats that lingered into day sweats! I was literally having hot flashes about once every ten minutes. It became almost debilitating. I couldn't get work done, couldn't sleep, and was miserable. Each hot flash seemed to just intensify until I finally just couldn't take it anymore. I saw my doctor and she recommended Relizen because of my history of migraines and hormones as well as cancer risk. I ordered up my first month's worth and started taking it immediately when the box showed up on my doorstep. I haven't missed a day since! Within a week, the number of hot flashes per hour decreased from about 5 to 1-2. Within 2 weeks, the night sweats stopped and so did the hot flashes! I felt cured and had some of the most restful nights sleep in a very long time. My husband was also relieved that I didn't wake him up anymore with all the blanket switching going on at night. Two years later, it's still working and I couldn't be happier to not have to deal with being uncomfortable anymore! Thank you!!! My husband says thank you too!"

"I was getting hot flashes hourly and all through the night. So much so that I was loosing sleep. I was tired, frustrated and HOT! Now I have found RELIEF AT LAST! I was skeptical at first because I had read reviews that it could take between 2-3 months. It took me a solid 2 1/2 months, but I'm so glad that I stuck it out, because the relief was worth the wait."
Dealing with painful sex too?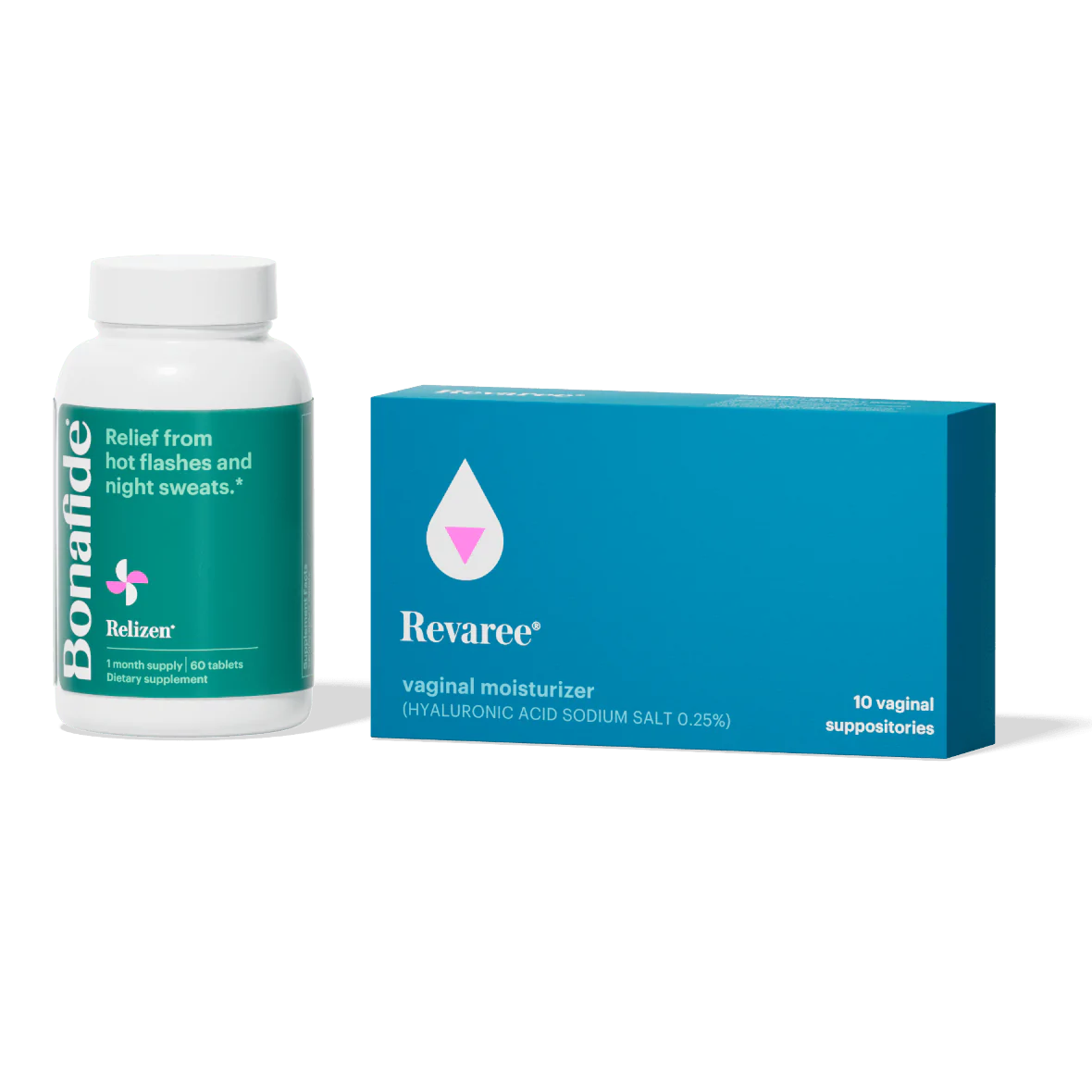 Add Revaree
Relizen + Revaree®
Along with hot flashes, many women also experience vaginal dryness that can make sex painful or uncomfortable.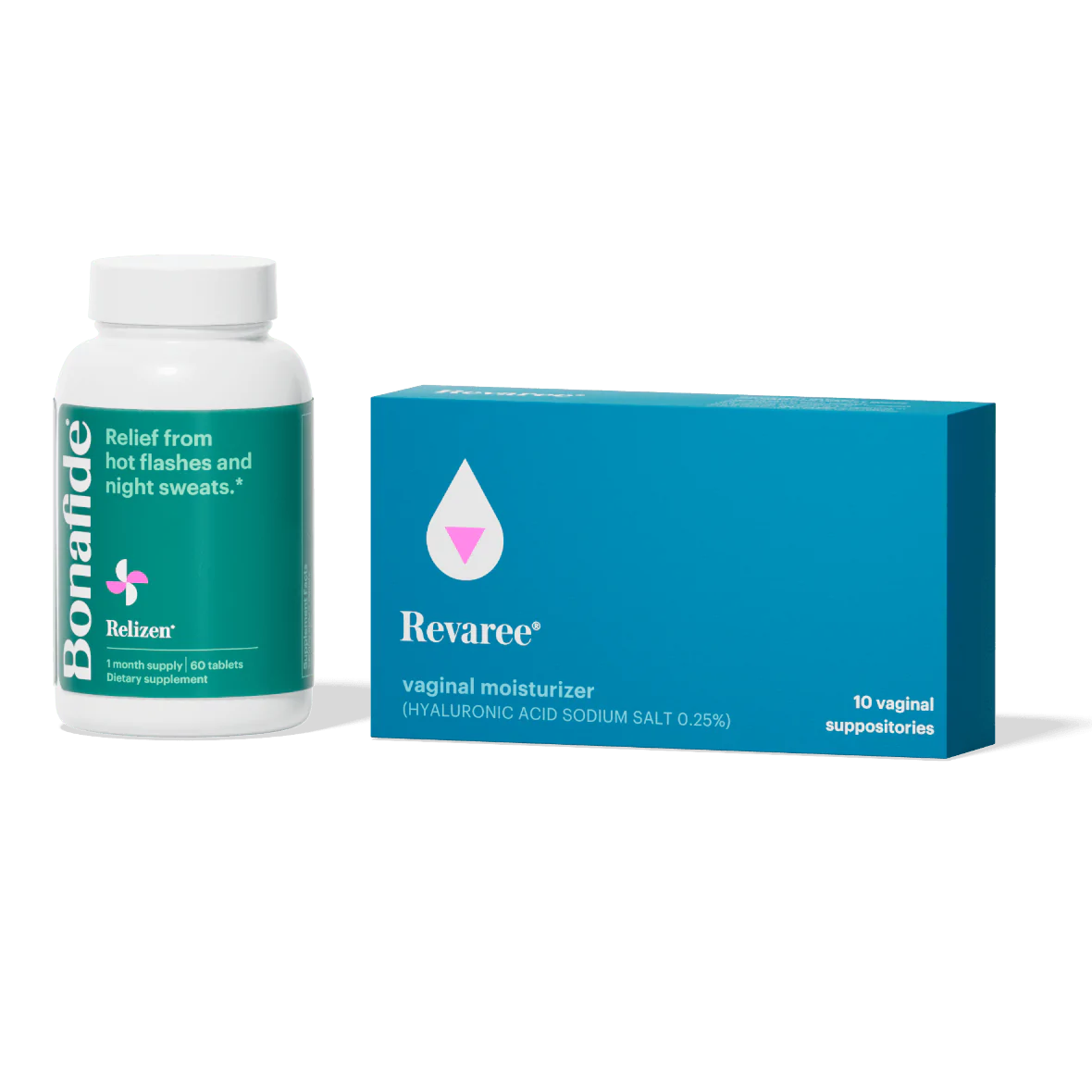 Add Revaree
That's why Bonafide women love power couple Relizen and Revaree. Revaree is a vaginal insert made of hyaluronic acid —the molecule naturally produced throughout the body that retains up to 1,000 times its weight in moisture. In the vagina, Revaree renews moisture and restores thinning tissue for good, so you can enjoy sex even more and stop constantly reapplying lubricant.
Ask Our Expert
Dr. Dweck talks improving sleep quality